ASPHALT AND MODIFIED ROOF REPAIR/FLAT ROOF REPAIR
By now, perhaps you realize that exterior spray foam insulation has maintenance issues if it is not properly protected!
When the protective coatings have started to fail, the sun's radiant energy quickly disintegrates spray foam insulation. Protective coating systems applied over exterior spray foam insulation should always have polyester fabric incorporated into the entire roof surface while the fluid waterproofing products are applied.
If water gets under your foam roof, and freezes, the foam delaminates from the surface it has been applied to. Acid is one component within foam that accelerates corrosion on steel when water gets under the foam.
For long term durability, our protective waterproofing application always includes polyester reinforcing fabric across your entire foam roof surface, because for 15 cents per square foot cost of the fabric, we just doubled the life expectancy of your protective roof coating system!
This custom foam waterproofing application always gives you a minimum 15 years renewable waterproof warranty and a maximum 20 years renewable waterproof warranty, depending upon which material we use to top coat your roof!
This application is considered maintenance, by IRS guidelines, so it's deducted the same year it's paid for.
Plus, with the materials we use in our coating systems, at no extra charge, these applications have been proven to out-perform 4-inch thick spray foam insulation regarding radiant heat gain!
This is the last protective system your foam roof will ever need, because to renew your warranty, we simply clean your roof and apply a fresh application of our top coating!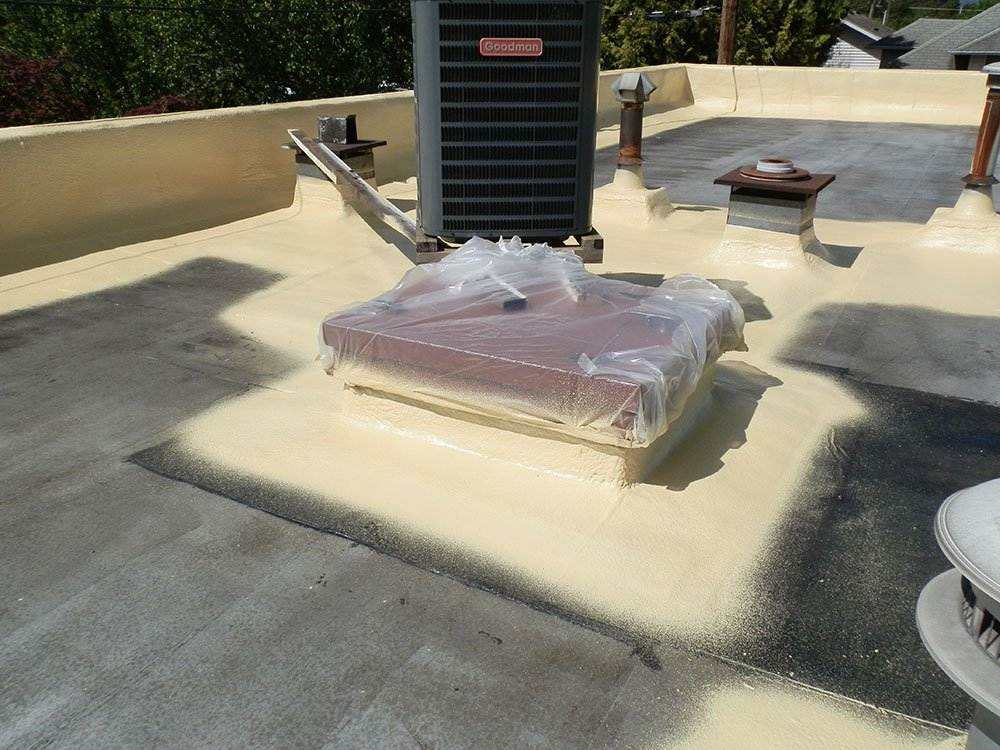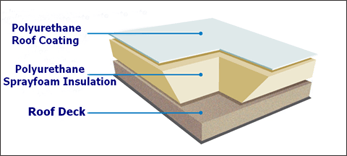 Flat Roof Repair That Lasts Long
It is typically simpler to locate the source of a leak on a flat roof than on a sloped or shingled roof. However, roof leaks of any kind might be trickier than they appear, especially if you're a beginner trying to do your roof repairs.
At Leaky Roof Doctors, Clark County, we assist you with thorough roof repair services, including free roof inspections, roof repairs, and roof replacements.Furthermore, we offer you the greatest professional roof repair personnel, who can help you with roof leaks.
Your worst foes when it comes to a flat roof are water damage and leaks, which is why you should hire a skilled professional contractor as soon as possible to fix any leaks and replace any damaged roofing materials with new ones of the highest quality.
Contact us at Leaky Roof Doctor.com to receive a flat roof repair that lasts a long time.
Benefits of Flat Roofing Repair Services
Due to the vast size of commercial buildings, pitched roofs are frequently unfeasible and more challenging to maintain. As a result, flat roofs are substantially more prevalent in both commercial and residential structures.
You can be sure that you will receive the services you require when you contact Leaky Roof Doctor. From the free preliminary estimate to the end of the work, we arrive at the scheduled date and offer realistic task pricing along with trained, skilled, and experienced roofers on the team.
Leaky Roof Doctor, an expert flat roofing contractor in Clark County, can provide you with the best. As an expert flat roofing contractor, we offer you the greatest assistance and explain all your options as well as the benefits and drawbacks of your case specifically.